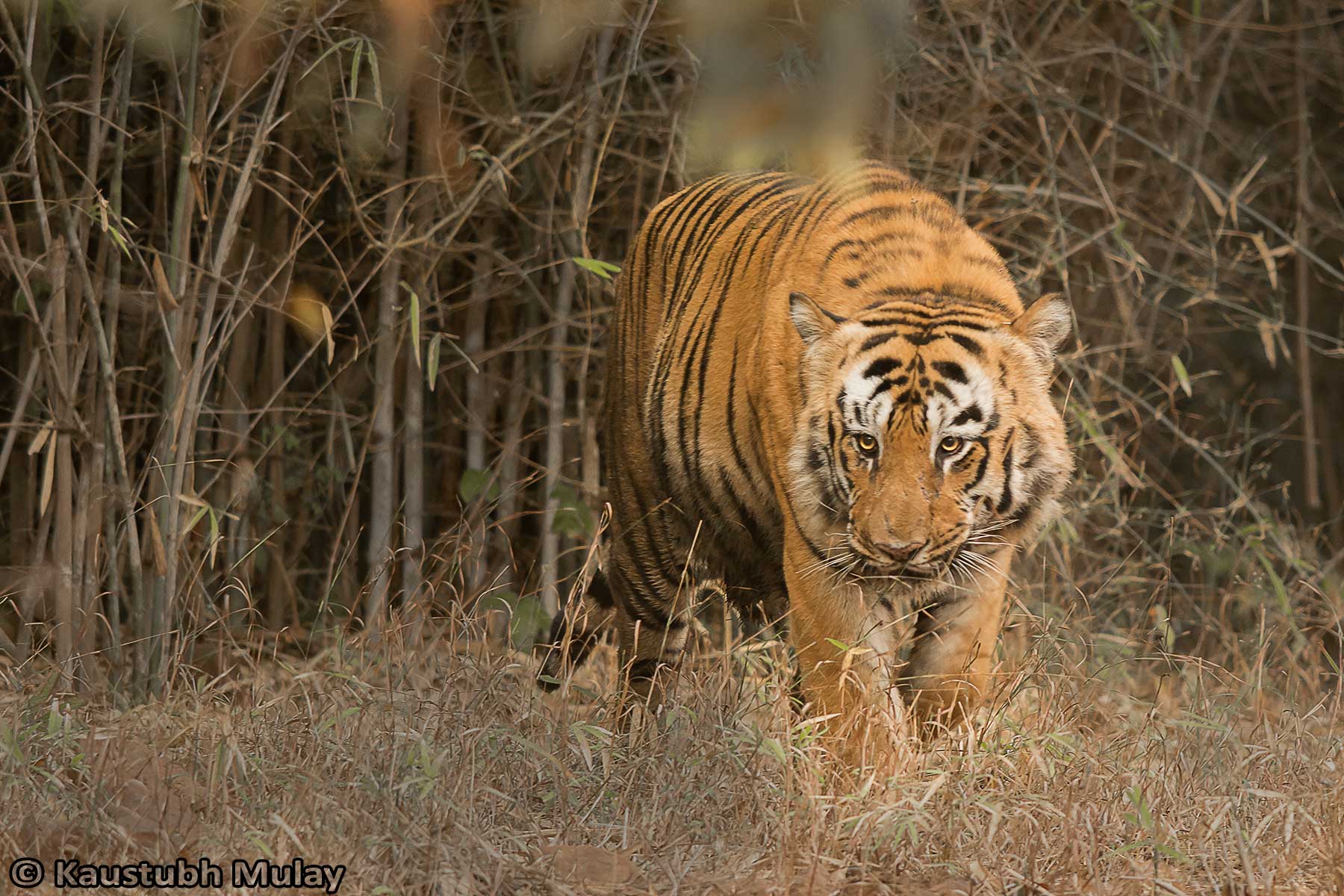 Tadoba National Park
*Note: The Minimum Number of Travelers Required are 6 for this tour.
For further details and Enquiries:
Need Assistance
+91 8208365566
+91 8208365566
travel@pristinesafaris.com
Tadoba Andhari Tiger Reserve is among the finest and largest National Parks in Maharashtra. It is India's foremost tiger reserve holding a large population of Tigers in India. It lies in district of Chandpur in Maharashtra state.
Vegetation of Tadoba is southern tropical dry deciduous which is spread on around 626 sq. km. Teak is an unmistakable tree species found in abundance here. The forest also consists of dense bamboo, and evergreen forest patches.
Tadoba derives its name from the Tribal God 'Taru', whose shrine is present near the massive Tadoba Lake, which also has a large number of Crocodiles that could be observed as they bask in the early morning sun. Another even larger water body is Irai Lake and is famous among visitors. Both the waterbodies holds huge amount of water and hence, they attract wildlife of all sort even during the peak summers.
Weather: Temperatures in Winter range from 100 C during the Day and can Drop to -10 C late at Night and early mornings. Temperature in Summer range between 200 - 480 C
Accessibility by Train: Nagpur: 130Kms (Daily Trains/Flights from Mumbai, Pune and Delhi)
Accessibility by Air: Nagpur Airport: 130 Kms. (Daily Flights from Mumbai, Pune and Delhi)
Day 01 - Train Journey.
Departure from Pune to Nagpur by Garibrath Express (12113) at 5.40pm.
Day 02 - Arrival and Transfer. Afternoon Safari.
Arrival at Nagpur 9.25am. After breakfast proceed to Tadoba National Park (3 Hrs). On arrival at the lodge, meet for lunch and have some rest. Get introduced to the amazing biodiversity of Tadoba, as we venture out for an afternoon Safari. On returning to the lodge, freshen up and meet for an interactive session from the naturalist followed by dinner.
Day 03 - Morning and Afternoon Safaris.
Experience the forest, learn about flora and fauna as you get to have some great sightings of mammals and birds on your morning and afternoon safaris. Interactive session with naturalist after evening safari, followed by dinner.
Day 04 - Morning and Afternoon safaris.
Explore the different aspect of nature at Tadoba, get closer to wildlife, learn to identify and understand more about the birds with unique information from our experts. Avail the opportunity to capture as many photos and a lot of amazing moments. On returning to the lodge, we would have another interactive experience sharing session, followed by dinner.
Day 05 - Morning Safari. Transfers and return Train Journey.
Proceed for the last safari of this tour to utilize another opportunity to maximize the chances of tracking carnivores. On returning to the lodge, freshen up and pack before meeting for lunch, and then proceed to Nagpur (3 Hrs) to board the train to Pune; Garibrath Express (12114) at 6.35pm.
Day 06 - Arrival at Pune 9.45 am.
Charges
Note: The safaris included in the package are shared between 5/6 Pristine Safaris' guests+Driver and Park Guide.
A Gypsy could be opted on 4 pax sharing, an additional charge of Rs. 3000/- Per person for 04 persons.
Charges include
Pune – Nagpur – Pune railway 3tier AC class
Surface transport (Nagpur – Pench – Nagpur) by AC Innova
Accommodation at Jungle Resort AC room on sharing basis
All meals, breakfast, tea/coffee at resort
6 Jungle safaris in Tadoba Tiger Reserve
Forest entry, Guide Charges
Tour Leader and Expertise
Charges do not include
Any food/drinks during travel
Any optional safaris other than mentioned in the itinerary (If Any)
Any meals not mentioned in the itinerary
Any drinks (hard/soft/mineral water) during the tour
Video/Camera charges (if applicable)
Any tipping/gratuities to hotels, staff, guides, drivers, etc.
Any Insurance/medical/emergency evacuation charges
Any personal expenses/phone bill/laundry etc.
Anything not mentioned in the 'Charges include' above
Terms and Conditions :
Participants are requested to go through all the Terms and Conditions before booking the tour. Once you have booked the tour, it is taken for granted that you have read and understood the Rules and Regulations laid down by the company.
Pristine Safaris is a division of PRISTINE HOLIDAYS LLP.
Payment can be made by cash, cheque, online transfers and Demand Draft, Drawn / Payable in Pune on account of "PRISTINE HOLIDAYS LLP".
Booking for all camps / tours will be done on first come first served basis.
Pristine Safaris reserve all rights to change the venue / dates / schedule / cost or cancel the tour / camp in the best interest of the client/s due to any unforeseen situation.
On Tour/Camp:

During the tour/camp, the participants shall abide by the instructions and decisions of the Tour Leader/Authorized representative of Pristine Safaris.

At Hotel/Resort:

Allotment of rooms / tents will be as per the camp / tour leader`s decision and will also depend upon the check-in and check-out time of the property.
In most hotels/resorts, extra bed provided constitutes the mattress with bed-sheet, blanket and pillows.

Cancellation Policy:

Request for cancellation and refund should be made in written, duly signed by the camper / guardian. Verbal / email communication is not acceptable.
Refund will be paid by cheque and not in cash within 30 days of tour/camp conclusion.
Whatever the reason, substitution of one camper with another is not permitted.
For cancellation of air tickets, railway tickets, forest entry, hotel bookings rules/policy of the company will apply.

Cancellation Charges:

Cancellation charges will be applicable as follows and will cover all situations such as injuries, sickness, exams, interviews, selection in tournaments etc.

More than 30 days prior to departure - 25% of the total tour cost
Between 30 to 16 days prior to departure - 50% of the total tour cost
Between 15 to 8 days prior to departure - 75% of the total tour cost
Less than 7 days prior to departure - 100% of the total tour cost

The tour organization/company in no circumstances is liable for:

Any death, personal injury, sickness, accident, loss, delay, discomfort, increased expenses, consequential loss or damage or theft. Temporary or Permanent loss or damage to baggage or personal effects however caused. The organization reserves the right to claim any additional amount of expenses due to delay in train, bus, air or any other weather conditions, strike, war, quarantine or any other cause. All the losses or expenses will have to be borne by the passenger / participants / company.
If, after commencement of programme, the tour is to be cut short for any natural calamities/riot/strike/political issues or other reason or if the programme is to be curtailed before the due period and the company is compelled to bring the participants back to starting destination, the participants shall not be entitled to any refund of the charges for the tour.
In the case of hike in rates like diesel/petrol/railway/flight/forest entry/Govt. Tax, there can be a corresponding increase in the tour cost and the difference will be borne by participants.